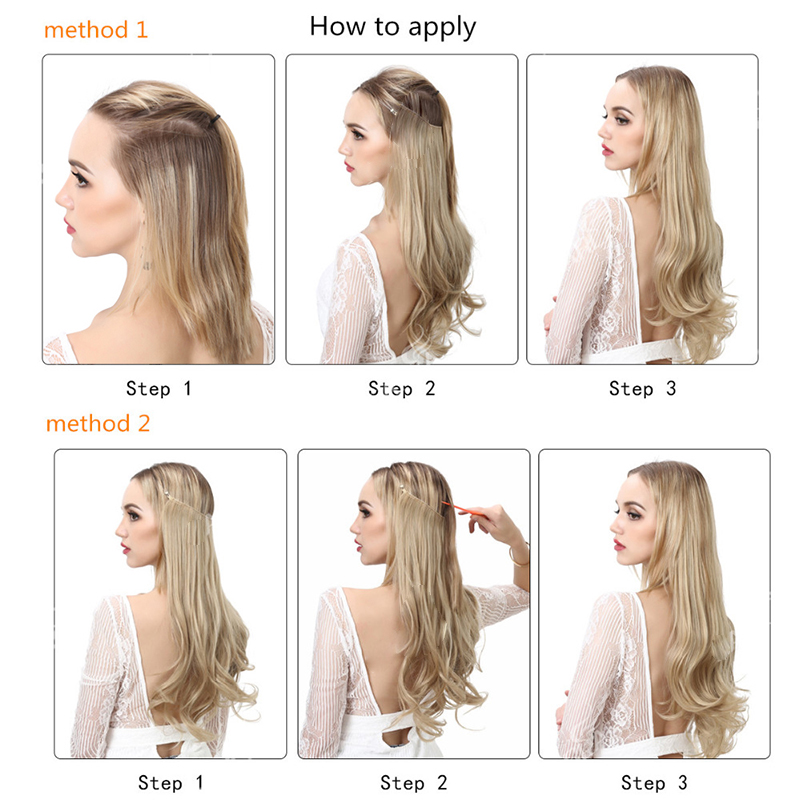 Introducing VEVIY Dolly Halo Clips in Hair Extensions, your ticket to gorgeous, voluminous hair in an instant. Our Dolly Halo Extensions are designed to effortlessly add length, thickness, and glamour to your look. Here are the details:
Premium Quality: Made from high-quality human hair, our Dolly Halo Extensions offer a natural look and feel. The silky-smooth strands blend seamlessly with your own hair, ensuring a flawless and undetectable result.

Easy Application: Our Dolly Halo Extensions feature convenient clips that securely attach to your natural hair. The clips provide a comfortable fit and keep the extensions securely in place throughout the day.

Instant Transformation: Transform your hair within minutes! With the Dolly Halo Extensions, you can achieve longer, fuller hair in an instant, whether you desire a subtle enhancement or a dramatic change.

Versatile Styling: Style your Dolly Halo Extensions just like your natural hair. They can be curled, straightened, and styled to match your desired look. Create glamorous waves, sleek straight styles, or playful updos effortlessly.

Customizable Length and Volume: Choose from a range of length and volume options to achieve your desired level of fullness and length. Whether you prefer subtle volume or head-turning length, our Dolly Halo Extensions have you covered.

Secure and Comfortable Fit: The Dolly Halo Extensions are designed to provide a secure fit without causing any discomfort. The clips ensure a snug hold, allowing you to confidently rock your new hairstyle.

Reusable and Long-Lasting: With proper care, our Dolly Halo Extensions can be reused multiple times, making them a cost-effective and sustainable choice. Follow our care instructions to maintain their beautiful quality.
Experience the glamour and versatility of VEVIY Dolly Halo Clips in Hair Extensions. Whether it's for a special occasion or your everyday look, these extensions offer instant transformation and endless styling possibilities. Elevate your style and embrace the luscious, voluminous hair you've always dreamed of.